UH SBDC Network Helping Entrepreneurs Succeed
House of Sound Car Audio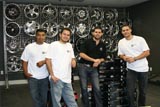 Alex Restrepo had worked all through high school in his family's business, an auto store specializing in the sale and installation of car stereos. All that time he spent after school and on weekends learning the products, operations and customer needs made him realize how much he wanted to own his own business. He knew that there were untapped opportunities in the market and his dream was to turn the small, local auto store into a major player in the automobile customization business. By the time he was able to purchase the business from his mother in 2003, he had big plans to attract more business into the shop by expanding his products and services.

About a year after he bought the business, Alex decided to get some help from the University of Houston Small Business Development Center Network. Sales were increasing and he was determined to grow the business the right way. He began meeting with UH SBDC Network Senior Consultant Orlando Saldana. They worked on putting together an actionable business plan for growth and looking at funding options to support that growth. Orlando also helped Alex develop a strategy to strengthen business operations and position the company to obtain the financing he would need.

By 2007 Alex was ready to move forward with his expansion plans, which included a new facility to house his expanded line of products and services. With Orlando's help, he finalized his business plan and updated his funding forecast. Armed with a solid proposal for his lender, he was able to get the financing he needed under the SBA's 504 loan program. Construction began in mid-2008, and, just about a year later, the dream this 26-year old had in high school was about to become a reality! On May 16th, 2009, Alex held the grand opening of his brand new, 9000 square foot House of Sound facility. Whether it's customizing an ATV with a ramped-up sound system and snorkels for amphibious adventures, or outfitting a car or truck with high performance wheels, brakes, alternators and a suspension system, his one-stop shop can now take care of it all. House of Sound is now the place Alex envisioned years ago - a full service audio, video, security, custom wheels and vehicle accessories showcase.
Young Chefs Academy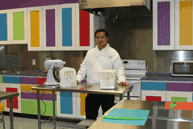 Roel and Arlene Vicerra have always dreamed of their own entrepreneurial venture and gave a lot of thought to what type of business might work for them. They decided to go the franchise route primarily because of the business model and the fact that a franchise comes with tried and true processes in place. After looking at various franchises, Roel and Arlene found the perfect fit: The Young Chefs Academy. Since they both love cooking and they love working with kids, Arlene and Roel knew that a franchise offering culinary classes, mini-camps and birthday parties for kids 4 to 14 was the right opportunity for them. They also thought that Sugar Land - an area of rapid and high growth in southwest Houston - would be a great location for their franchise.

One of Roel's co-workers had told him about the University of Houston Small Business Development Center Network, so when Arlene and Roel were ready to purchase their franchise they started by visiting the UH SBDC Network. They met with Senior Finance Consultant Tim Stanley, who worked with them to prepare a loan proposal including a solid business plan and forecast statements. The proposal was successful, and Roel and Arlene obtained an SBA guaranteed loan in November 2008. The couple opened their Young Chefs Academy franchise on a major thoroughfare in Sugar Land, and have been busy ever since. Both the franchise and the Sugar Land location proved to be excellent choices, as Arlene and Roel's business continues to grow and attract new customers.
AOP Corporation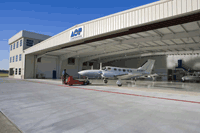 Glemon Silva turned to the University of Houston Small Business Development Center Network when he needed help financing the expansion of his international business, AOP Corporation. Established in 1993, AOP is a supplier of aircraft parts and products in every major international market, and also provides maintenance, repair and overhaul services on all types of aircraft. The company recently added aircraft sales and other aviation services to the mix, promising technical know-how, reliability and fast delivery each time.
Although Mr. Silva was not a novice to exporting, he came to the UH SBDC Network wanting to explore lines of credit to support his overseas sales growth, and specifically, financing options for his hangar expansion at West Houston Airport. He met with Senior Business Consultant and Certified Global Business Professional Carmen Strong, who worked with him to prepare a loan proposal for the construction of a hangar on property he co-owned at the airport. Mr. Silva was able to successfully obtain financing for the new facility and opened the hangar in October of 2008. The timing was right because his global business continues to expand!